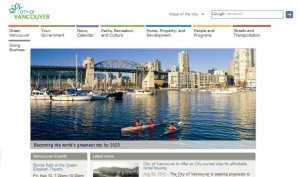 The web design field has a wide breadth of service offerings from free design and hosting services; to small companies who charge a few hundred to a few thousand dollars; to large full service agencies equipped to provide design, hardware, database, migration and backend support which will run you from the mid five figures to beyond.
Websites are no longer just fun, flashy graphic eyecandy. Organizations rely on their websites to market their services, engage clients, sell wares, host databases and more.
UPDATE AUGUST 11: Here is a 4.5 minute CKNW radio interview on this topic:
Audio clip: Adobe Flash Player (version 9 or above) is required to play this audio clip. Download the latest version here. You also need to have JavaScript enabled in your browser.
When it comes to a municipality redesigning their website you can count on five things:
1) improvements to their current site's design and function will take place
2) some people will love the new site, while others will hate it
3) real features constituents want (e.g., paying taxes directly on the website; online application forms; real time online communications; etc) will be limited or missing
4) the cost will be grossly inflated
5) the Government bureaucrat who has to explain to the press why the project cost what it did, will really have no clue what he / she is saying or be REALLY condescending…or both
On Wednesday the City of Vancouver released their latest website design – their fourth in the last ten years.
The design and navigation are a vast improvement; integration of outside payment modules (e.g., paying for a parking ticket) were well done and the cost – $3 million (and in fact, folks are telling me the current actual cost is $3.3 million) – is, well, exorbitant.  And I am not alone.
Noted Vancouver blogger and web designer Rebecca Bollwitt – aka @Miss604 – wrote:
My jaw is on the floor! RT @theprovince: $3 million rebuild for City of #Vancouver website http://t.co/I2eJDD4B
In my very unscientific poll, 95% of designers agree with me and Rebecca that the City of Vancouver overpaid for their website while the remaining 5% are clearly out of their minds. Again, please note I do not do scientific polls, just like Forum Research.
Laurie Best, Vancouver's director of the city's web development project, told the Vancouver Courier:
The cost is just over $3 million. About half of that was for the technology side (hardware, software and customization) and about half for three years for salaries for 20 staff, extensive research on what worked and didn't work for people (research found little actually worked well for people), design and development of the look and feel ($40k), templates, writing the information, consultations and focus groups, staff training and detailed testing.
So you may now be asking, "Dave, you sexy beast, what SHOULD that website have cost?" My answer, $861,000 or 23% more than Surrey.
How did I arrive at that figure? By comparing the City of Vancouver site to two other municipalities; tapping into my knowledge of how Government spends tech money like drunken monkeys; and mostly opinion which is of course inflated by my self worth. Or as Chief Financial Officers call this process, forecasting.
The City of Coquitlam launched their re-built website in February 2012 at a cost of $260,000. So how does it compare to the Vancouver site? Acts and feels the same. Sure, IT nerds will point out the differences between hardware etc – but really, who cares?…unless it costs 1,200% more.
What is important is function, usability, security and that the Mayor's photo is totally everywhere on the site. In these regards, the two sites are the same with Coquitlam having 1/12 the cost.
Moving over to the City of Surrey we learn that they spent $700,000 in 2011 for their website. Golly the look and feel is darn near identical to the Vancouver site. Wow! Even the Open Text content management system (CMS) is a mirror image. All for less than a quarter the cost of the new City of Vancouver site.
Weird!
Or is it so weird the two sites are so similar?
It seems the same company – Yellowpencil – built both websites.
Yellowpencil's description of the Surrey site project is almost the same as the City of Vancouver's. The specs, design elements, function, etc.
Of course there ARE differences. Namely, the Surrey site is mobile friendly and the cost of an app was part of the price tag while Vancouver's site is NOT optimized for mobile phones nor did the $3 million+ price include a smartphone app.
From all the above we have hit the first 4 of the 5 points in my checklist. What about point 5? How is the City doing communicating with the public?
Yesterday Ms. Best was on CKNW's Simi Sara show. Best explained that the site now had better search capabilities and was translated into 50 different languages. Wow! That IS impressive…until you learn that the website uses FREE Google search and translation plugins which take about 10 minutes to install and configure.
When Simi asked how could the City of Coquitlam site cost $260,000 with VERY similar functions, backend, etc while the Vancouver site is $3 million plus, Ms. Best replied, "The City of Vancouver is a bigger city with more complexities".
Ummm…ok…but that is not REALLY how web development works. The cost of the site is NOT determined by population or land mass. If that was the case, I guess the Canadian Goverment's website should cost $30 billion.
Did the city of Vancouver over pay Yellowpencil for their services? Maybe.
Over pay and/or get needless upgrades for the CMS and hardware? Totally.
But where did they REALLY get shafted? In the words of Radiohead "you do it to yourself, you do, and that's what really hurts".
What I mean by that is, look at the line item "research". When the numbers come out, I guarantee you will find $1 million or more under this column. If itemized, watch for a whack of Vision Vancouver (the political party running Vancouver's City Hall) supporters and their companies listed as "consultants" or "advisers".
Also watch the cost of this site approach $4 million before the end of the year. Stay tuned.
So what do you think? Money well spent? What do you like / not like about Vancouver's new website?