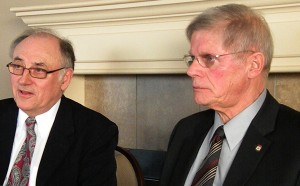 Wow!
Anyone who did not think the BC Conservatives are currently a group of angry confused guys with a BIG axe to grind with Premier Christy Clark to the detriment of the people BC needs to listen to the sixteen minute radio interview below.
This morning on CKNW, guest host Michael Smyth took BC Conservative adviser and former Newfoundland Premier, Brian Peckford (at the left in the photo beside John Cummins, who I believe is smiling) to task for saying that BC is acting "un-Canadian" for standing up to Alberta for a greater cut of the Enbridge oil pipeline fees. This was all in response to Premier Clark's "Putting BC First" initiative.
Peckford – in the words of the BC Director for the Canadian Taxpayers Federation, Jordan Bateman – had a "meltdown" on the radio.
Wow. Brian Peckford setting back the BC Conservative cause big time with @MikeSmythNews on @CKNW. #meltdown #bcpoli
That he did.
He had facts wrong; lied about his past advising the energy sector; shouted over the radio host; tried to distance himself from BC Conservatives Leader John Cummins while saying Cummins should lead BC; and then ultimately Michael Smyth cut him off to end the interview.
A total and utter failure of the BC Conservatives to get their message out in a clear and meaningful way. Instead, Peckford reenforced the sensible direction Premier Christy Clark is heading on this issue.
Brian Peckford – thank-you!
Audio clip: Adobe Flash Player (version 9 or above) is required to play this audio clip. Download the latest version here. You also need to have JavaScript enabled in your browser.