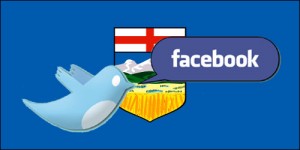 Always lots of chatter about how social media plays a role in elections. You know, social media was the ONLY reason US President Barack Obama and Calgary Mayor Naheed Nenshi won their posts.
There is even a theory that the candidate with the most Facebook followers or Likes will win. In November 2011 three mayoral Candidates who I supported and assisted all won and all had the greatest number of Facebook followers versus their opponents.
Last week in British Columbia there were two Provincial byelections  to elect Members of the Legislative Assembly (MLAs).  My study on Facebook Likes from those BC byelections not only told who would win, but who would place second, third and even fourth!
Curious, ain't it?
So as we have seen from my extensive examples above, social media can elect a President, a couple of MLAs and a bunch of Mayors…but how about the results from an entire election in Alberta? Can the social media prowess of Party Leaders determine who will run an entire province?
Thankfully last night we had a General Election in Alberta so we can test out some social media theories.
While there were ten different Parties running in the election, I focused on the Leaders of just four main Parties. I did this in order to ensure the data would be carefully collected, analyzed and displayed for the you – my loyal readers – to digest in a timely manner. Totally has nothing to do with my not being interested in spending time researching fringe Parties in a Province where I do not even live. Nope, this was all about helping YOU out. You're welcome.
With that in mind, the four Leaders and Parties as subjects in this piece are: Brian Mason – NDP; Alison Redford – Progressive Conservatives; Raj Sherman – Liberals; and Danielle Smith – Wildrose.
So here is my methodology (which is Latin for "stuff I did to collect the data you are about to read"): At 4pm Sunday (the day before the election) I wrote down most of the numbers you will see in the charts at the bottom of the post from the candidate's Facebook, Twitter and Klout sites. I also used Topsy to get some of the cumulative figures over the 30 days leading up to yesterday. The election results were recorded AFTER the election. The goal here is to see if Facebook Likes or the number of Twitter followers by the Leaders of the Parties determine the overall Alberta election results. Hope you were able to follow my awesome research techniques.
FINDINGS
It appears the outcome of this election comfirms that yes indeed, the number of Twitter followers "predicted" not only the winners, but the second, third and fourth place finishers with 100% accuracy. (1st PC; 2nd Wildrose; 3rd Liberals; and 4th NDP)
All the other social media measures had Wildrose dominating – including three times the Facebook Likes than the next closest Party – but that was not the case when the ballots were counted.
CONCLUSIONS
Social media is a valuable tool in recruiting, engaging and activating volunteers, supporters and voters. It seems the more Twitter followers a Party Leader receives in Alberta is indicative of the final voting results for Party. Therefore campaigns must have a thoughtful, Team based social media stratedgy in place which is used well before the election is announced and of course during the election period. Campaigns still fail to engage on social media and while more difficult to quantify, anecdotal evidence indicates that even though engagement was poor, the rankings in that area would be the same for the above candidates as the final voting results.
Since the parties placed in the same order (1st PC; 2nd Wildrose; 3rd Liberals; and 4th NDP) as Twitter followers, this may highlight the differences between the parties on the importance of social media in their election / communications / engagement planning.
Social media so totally and obviously leads the way in electing our Leaders, however those same leaders point to other factors as noted in these two news pieces: Smith blames controversial remarks, strategic voting for Alberta loss and How Alberta PCs pulled off a win. This continued failure to integrate social media into the success of a campaign will limit a Party's growth. #DaveLogic
So what do you think? Is the "Facebook Likes / Twitter followers equals final results" just a coincidence? Or is it an obvious measure of a candidate's popularity which translates into votes? Share your thoughts in the comment section below.
2012 Alberta Election - the Leaders
Brian Mason - NDP
Alison Redford - PC
Raj Sherman - Lib
Danielle Smith - Wildrose
Facebook Likes / Rank
2,173 / 3
8,995 / 2
810 / 4
28,826 / 1
% of Total Candidate Likes
5.3%
22%
2%
70.6%
Talking About / Rank
431 / 3
2,790 / 2
170 / 4
11,827 / 1
Twitter Followers / Rank
2,933 / 4
12,335 / 1
4,299 / 3
11,667 / 2
% of Total Candidate Followers
9.4%
39.5%
13.7%
37.4%
Twitter Updates / Rank
218 / 4
796 / 3
2,111 / 2
6,696 / 1
% of Total Candidate Updates
2.2%
8.1%
21.5%
68.2%
Twitter Replies to Candidate / Rank
(see chart below)
771 / 4
2,866 / 2
1,024 / 3
4,210 / 1
% of Total Candidate Mentions
8.7%
32.3%
11.5%
47.5%
Klout / Rank
51.08 / 4
61.48 / 2
55.26 / 3
65.47 / 1
Number of the 87 Seats Projected in Relation to Facebook Likes
5
19
2
61
Number of the 87 Seats Projected in Relation to Twitter Followers
8
34
12
33
Actual number of the 87 Seats Earned
4
61
5
17
Total Party Votes / Rank
126,412 / 4
565,869 / 1
127,441 / 3
442,041 / 2
% of Total Party Votes
6,757 of 6,765 Polls Reporting
10%
44%
10%
34%
NOTE: Clicking on the orange links in the chart above will take you to the Leaders' Facebook or Twitter pages.