Guest post by Brett Mineer, an award winning journalist, former reporter/anchor for CKNW 980AM in Vancouver, and current freelance writer and commentator.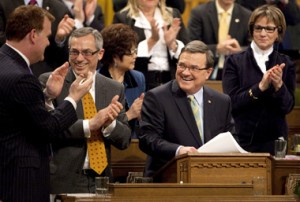 Like the oil hidden away in the sands of Alberta, The Bitumen Budget is stuck in the fine print of this years fiscal roadmap.
Despite the predominant narrative Jim Flaherty's ironically titled 2012 budget (Jobs, Growth, and long-term Prosperity slashes over 19,000 jobs) is "incremental" and contains "no surprises", environmental charities, NGO's and Canada's indigenous peoples are discovering a document that appears rather obvious in it's attempt to knee-cap efforts to oppose, criticize and combat expansion of Alberta's oil sands.
Tellingly, Climate Change is mentioned only twice.
Long accused of "muzzling" its scientists, the Harper government provided fresh kibble to critics by delivering a 6% cut to Environment Canada (not their first), while slashing a whopping 40% from the Canadian Environmental Assessment Agency (CEAA).
Holding true to earlier promises (or threats, depending which side you're on), major resource projects that can take six years to gain federal approval, will by law now take no longer than 24 months to review (to date, not a single oil sands project has been rejected outright).
As if lifted directly from an oil-man's pipe dreams, Finance Minister Jim Flaherty says the "streamlined" review process will be retro-active and apply to projects already under review.
In a budget briefing for reporters in Ottawa, Flaherty says "the new timelines will apply" to the controversial, $5-billion Enbridge Northern Gateway pipeline currently mid-process.
Northern Gateway proposes to pipe raw bitumen from Alberta's oil sands to the deep-water port at Kitimat, BC for export to Asia. The project has near unanimous opposition from First Nations, is heavily opposed by Canadians in general, especially in British Columbia where the pipeline will cross mountains and streams while oil tankers navigate the rugged (and environmentally sensitive) coastline.
"This pipeline is going to traverse the territories of literally dozens and dozens of First Nations. All of them have said very clearly that they do not support the Northern Gateway project and they will do everything that they can to stop this project" says Grand Chief Stewart Phillip of the Union of British Columbia Indian Chiefs to CBC Television.
"This is an incredibly stupid move on the part of the Harper government and will only serve to expedite the battle in the courtrooms and on the land itself" he adds.
Further frightening those who oppose the bitumen agenda, Resource Minister Joe Oliver also suggests speakers at future reviews will be restricted.
"We want everyone who has a direct interest in a particular project to have the time. What we don't need frankly is thousands of people belonging to the same organization coming and repeating the same packaged presentation."
As thousands of public servants prepare for the loss of their jobs, over $1.3-billion in oil and gas development subsidies go untouched and unmentioned in the Bitumen Budget. It may even be argued the subsidies could increase slightly through a roughly $2-million initiative to encourage clean energy generation. In oil sands lingo, "clean energy generation" is often code for carbon capture and sequestration research and development dollars. Most analysts call Canada's obsession with unproven and undeveloped CCS a "dead end".
The Bitumen Budget allocates $50-million over two years to protection of species at risk, but that noble gesture turns out to merely be in support of the feds legal obligations to do so.
Inside the circular world of pro-oil sands bloggers, lobby groups and Sun Television talking heads (in some cases these people are the same) the budget initiative that excites the most allocates $8-million to crack down on conservation charities.
"Recently, concerns have been raised that some charities may not be respecting the rules regarding political activities" states the budget.
"There have also been calls for greater public transparency related to the political activities of charities, including the extent to which they may be funded by foreign sources".
Much of this is the result of research into foreign funding of Canadian enviro and conservation groups done by blogger Vivian Krause (who recently disclosed she was paid $10,000 to speak at a luncheon for the Association for Mineral Exploration in BC).
Krause was recently quoted as saying her research has been "misused" in rhetoric by groups like Ethical Oil, ourdecision.ca and Resource Minister Joe Oliver, when he famously penned an open letter to Canadians, decrying "radical" and "foreign funded" enviro-groups on the eve of the start of hearings into Northern Gateway.
The Bitumen Budget also proposes to do away with the inconvenient National Round Table on the Environment and Economy, with its $5.2-million annual budget. Established in the 1990's, the NRTEE acted as an advisory panel to the federal government on business and environmental issues and has produced numerous reports highly critical of Canada's policies around climate change.
To think – everyone thought the demise of the penny was the big story!