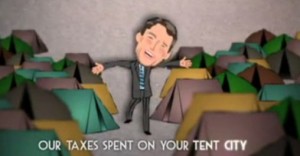 On the whole, "communications experts" who create ads for political campaigns are – and this is the technical term – soulless hacks with no humour, less common sense and have a modicum of talent.
Oh! And moronic.
This is why videos like Fight Fight HST were not done by Government / political folks. It is far too clever. In that same vein, the "Mayor Moonbeam" video has that appeal.
"Mayor Moonbeam" refers to Vancouver Mayor Gregor Robertson who is in the middle of a re-election bid (remember to vote on November 19th).
The video is creative, funny, interesting and enlightening – which is why it went viral. It also apparently used some copyrighted music and was pulled from Youtube.
However, I have a copy, loaded it on my server and have it here for your viewing pleasure.
I have no idea who created and/or commissioned this video but kudos to all involved for upping the creativity in British Columbian political advertising.
For those folks who will say that I created this video…really? You think I have the technical skills, humour and talent to pull off this creative masterpiece? Why, thank-you.