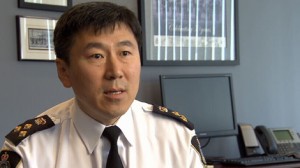 We all know about the June 15th riots in Vancouver. The Vancouver Police Department has been critized for not laying any charges. Instead the VPD have been sifting through thousands of photos and thousands of hours of video footage to ensure all charges against an individual are laid.
As part of Social Media Week on September 22nd, I invited Chief Jim Chu to speak with me about the riot and the use of social media during the investigation.
Two interesting points:
1) He said charges will start to be laid by the end of October to which I exclaimed "Just in time for Halloween"…and he said "Well there you go, yeah". (4min 40sec-ish mark in video) Today is Halloween…are charges coming down today?
2) He agrees that the police did NOTHING in what is know as "the June of unspeakable horrors". Of course I am talking about June 2009 where the Police allowed Coldplay into the City with arrest. Watch the video, I think Chief Chu will not allow this to occur again. (7min mark-ish in video)
Runtime

8:06

View count

131
UPDATE – CHARGES AGAINST 60 PEOPLE RECOMMENDED