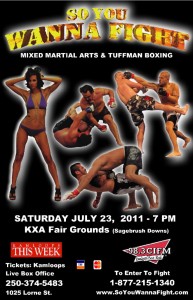 UPDATE: Here is my interview on CFAX radio from August 9th.
Audio clip: Adobe Flash Player (version 9 or above) is required to play this audio clip. Download the latest version here. You also need to have JavaScript enabled in your browser.
An "amateur Mixed Martial Arts (MMA)" event held last week in Kamloops proves once again that British Columbia needs an Athletic Commission to sanction combat sports and that the British Columbia Medical Association's (BCMA) renewed call to ban MMA is misguided.
The promotion "So You Wanna Fight" held a combination boxing / MMA show in Kamloops on July 23rd. The amateur event was not held under the Unified Rules of Mixed Martial Arts - the rules Ultimate Fighting Championship (UFC) uses. Instead, the rules allowed for a fighter to compete multiple times in one evening, no doctor at ringside and fighters were not permitted to be on the mat grappling for more than 30 seconds – this way more knockouts were encouraged.
Mike Boyer, a 35-year-old body-builder, without benefit of MMA training and on disability due to injuries sustained in a car accident when he was seven years old, entered the ring for the first time on July 23rd. He won his first match and then his second match of the night. This earned him a medal and a $500 prize.
It also earned him a foot-long surgical scar on his head.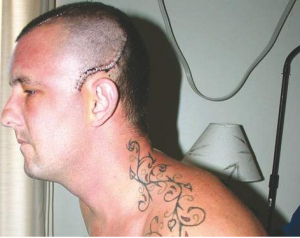 After his victory Boyer, "…started feeling lightheaded and sick to his stomach. When he vomited, ambulance attendants came to his aid and rushed him to RIH [Royal Inland Hospital], a ride he doesn't remember. A CT scan revealed bleeding on the brain. He underwent six hours of surgery."
From this, new BCMA President, Dr. Nasir Jetha said, "We need stronger legislation. This sport should be banned."
Jetha is half right – we do need stronger legislation in BC in the form of an Athletic Commission which operates in the same manner as the Nevada State Athletic Commission.
An Athletic Commission governing "combat sports" – MMA, boxing and pro-wrestling – at both amateur and professional levels would have rules in place to protect the fighters. Pre fight medicals, post fight check ups, weight classes, common rules for the sport and medical staff at ringside would be some of the protections in place.
As it stands in BC, amateur events – which denotes the participates are not paid – are not regulated by the Province or the few cities in BC where there are Athletic Commissions (eg., Vancouver, Nanaimo, Victoria, Kelowna). The organization MMABC offers to regulate or oversee amateur MMA events in BC but this is not mandatory nor is MMABC currently a recognized sanctioning body. Their focus is on participate safety which should be the focus of promoters and would certainly be the mandate of a Province wide Athletic Commission.
The "amateur MMA event" heading where fighters are not paid is a huge loop hole. Promoters get around this by paying the participants to set up chairs, "winning" a prize, putting up posters or consulting on the event – but not for actually taking part in the event – nudge nudge, wink wink.
A Province wide Athletic Commission would prevent this from happening.
The promoter of the Kamloops event, Don Arnott, told CBC before the bouts started:
"In 20 years and over 3,000 matches, have you ever heard of negative thing after any event, where there's been somebody hurt or it's been bad?" he said. "There hasn't been. There's been no bad publicity, there's been no negativism on, it's never happened."
Doh.
I met with Arnott at one of his events in Coquitlam in April 2010. We spoke in great detail about his fight rules (which he liked) and sanctioning of the sport via an Athletic Commission (which he did not like).
I was curious as to what he thinks now so I visited his two websites – which are now both down. His Facebook page and Youtube channel are also down. Hiding online info does not bode well for his claims that he runs safe events. He also has yet to return my phone message.
Using Google cache I was able to take some screen captures of parts of his now down sites (see the photo gallery at the end of this piece).
Some interesting things from these screen captures:
1) From the "So You Wanna Fight" website (all punctuation and world capitulation as on the site): "So You Wanna fight is power packed with Rough Tough Bikers, Bouncers, Brawlers, Red Necks, Ruff Necks, No Necks and Guys and Gals that "Think They're Tuff". The roughest, toughest men and women from across North Amercia are ready to get it on. Each even is loaded with adrenaline charged grudge fights in Boxing and MMA. Lot of fun. Lots of Action and Lots of Knock-Outs. If you like non-stop Fighting this is for YOU!!" In short, nothing about trained fighters. This is 1980s / 1990s "tough man" fights which is NOT MMA and therefore should be banned.
2) The fight application Arnott had on his site asks the fighters to list their win / loss record for "Street Fights, Hockey Fights, Backyard Boxing, Helmet Fights etc." Clearly not the sign of a professional organization.
3) It appears this Kamloops event was sanctioned by the "Canadian Amateur Combat Sports Council". Well, the CACSC is owned and run by Arnott, the promoter of the event. This is not a sanctioning body, just a website used to confuse the participants and other interested parties into believing the events are safely run and sanctioned.
So let's be clear, this Kamloops event where the untrained Boyer was seriously injured was NOT an MMA event. This was an unsafe and unsanctioned fight.
There is not been a single death in MMA where the Unified Rules of Mixed Martial Arts have been used. While there have been injuries, there has not been an injury in severity as suffered by Boyer.
As I did last year, I urge the BCMA to work with the MMA community and BC Government to form an Athletic Commission like the one in Nevada. Banning MMA will drive the sport underground or onto Indian Reservations where such sanctions are not recognized.
The protections a Commission can provide for participants are huge plus the revenues collected from from dozens of "small" events, two "medium" sized World Wrestling Entertainment (WWE) shows and one large UFC style event each year would pay for the operation of this commission.
I want to point out to BCMA President Dr. Nasir Jetha that his favourite sports of mountain climbing, soccer and golf each individually have more deaths and serious injuries in the last year than the entire history of MMA. Yet, he is not calling for the banning of these activities. Why? Because he – like many others not familiar with the rules and history of MMA – have a bias against the world's faster growing sport due to perceived risk.
Hopefully, the BCMA will open their mind to MMA and that the BC Government gets moving on forming this Commission. Soon.