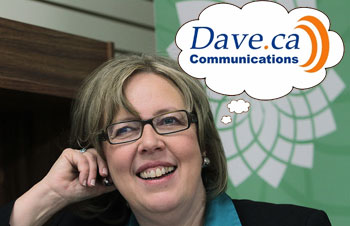 Seems that Green Party Leader Elizabeth May will not be allowed to participate in the upcoming Leaders' Debate to be broadcast throughout Canada on April 12th. Many reasons were given such as she is not an elected Member of Parliament and in fact no MPs are from the Green Party. Kermit the Frog was right, it isn't easy being green.
The last Leaders' Debate in October 2008 – which interestingly enough Ms. May was in – drew in 3 million viewers. This means that roughly 21% of the nearly 14 million voters in the 2008 Election watched the debate. Since the Green Party scored less than 1 million votes last time out this viewing audience is HUGE to them for growth.
But on April 12th Ms. May will be like John Cena in a movie – without an audience.
So what can she do? The solution is of course – THE INTERNET!
If I were Ms. May and the Green Party I would follow step-by-step what I write below and then send me a cheque. Actually, reverse that – send me a cheque THEN do what I have written below:
13 Easy Steps To Debate Broadcast Awesomeness
1) On debate night hold a rally in your riding on Vancouver Island and pack the place with supporters. The time difference of the West Coast works in your favour to get folks out of their homes. Oh! Provide snacks. Not just granola and stuff but good things. Like poutine. Pretty much the best a vegetable can be.
2) Invite the media. They will show up. What folks sometimes forget is that the national media have local corespondents all over the country and they are starving for news. Well, and some are actually starving due to low wages. They will appreciate the snacks.
3) Show the debate on some big screens and film the crowd's reaction to what the other Leaders are saying. Great footage to be had.
4) Have some of your crack Team write down the questions which were asked by the moderator. This is pretty important to this whole thing. Another important thing, don't lose the paper on which the questions were written.
5) When the televised debate is over – Elizabeth May, it's your time to shine!
6) Flip on your Livestream or Ustream account and get ready to broadcast your 30 minute response to the Debate to the world.
7) Have your opening statement. I bet at the end you will have thunderous applause! Did those guys in the televised debate have applause? No way! You are already leading in the applause vote.
8 ) Have your celebrity moderator ask you the same questions asked of the other Leaders. Best part, no rebuttals…except from you of course! Oh yes, for that celebrity moderator, I suggest funny man Rick Mercer. His name alone will draw in more attendees. He was supportive of  you being in the debate when he Tweeted on March 30th "Let Elizabeth May in the debate. She's the vinegar that brightens up the vegetables." As we all know, Tweets are legally binding contracts so drag Mercer out to the Island.
9) Before debate day send NDP Leader Jack Layton an email or a note on hemp weaved paper reminding him that he supported you being in the debate. As such, the least he can do in his opening and closing remarks is to say to the televised viewing audience that they should tune into GreenParty.ca to watch you in your debate response.
10) Do your closing statement and watch the crowd go wild!
11) After the Livestream have your tech team get the 30 minute-ish piece up on Youtube stat! Then pass that link around social media (Twitter, Facebook, etc.) like some sort of item at a Dave Matthews concert. Be sure to upload in high def so that media outlets can actually broadcast on their news programs. I guarantee they will broadcast portions and at no additional cost to you.
12) Create a second Youtube version which includes the footage of your crowd reacting to the other Leaders, your debate responses, interviews with Rick Mercer, comments from supporters, you answer questions from folks over social media, etc. Think of this like extras on a DVD or a 12″ dance version of songs from the 80′s.
13) Scrum – the media will want to chat with you.  Now you can focus on your debate responses as opposed to reminding folks you were not in the debate. A politician focusing on the positive is front page news worthy.
So there you have it Ms. May – you get to have your debate say, gain earned media, show Canadians you find ways to get things done, drag Rick Mercer to Vancouver Island, do this in a cost effective manner and serve up poutine. Quite frankly, that is more than any Federal Government have completed in the last 20 years.