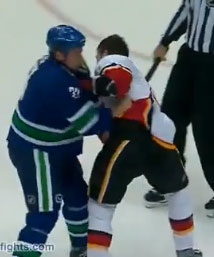 This fight from GM Place on January 9, 2010 was named the fifth best fight of the 2009 / 10 NHL season by HockeyFights.com.
Not sure how this differs from the "look and feel" of an MMA bout- right down to the refs watching, the commentators explaining the fighting techniques, that fighting is a "game within a game", etc.
Oh! The big missing piece is the City of Vancouver has no problem with these unsanctioned fights yet does not collect tax revenue from them.
Listen to the commentators explain the "gamesmanship" and how this was an "almost seven round fight".
I am not making the argument that hockey should ban fighting – I am saying that since hockey has fighting and the City of Vancouver regulates combat sports – hockey should be taxed with the additional Vancouver Athletic Commission fees and uses those proceeds to offset event policing costs.
Genius I tell you. Anywho – enjoy the video of the fight.
Runtime

1:28

View count

159,476