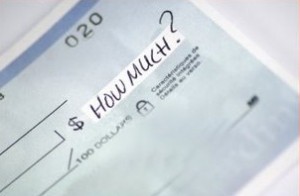 How much should we pay our politicians?  Who should decide the pay increase?  And how should this process be conducted?
These are questions the are asked anytime our elected officials look at their pay structure.  It is easy to be cynical in light of poor leadership (Mayor Young) or the near 29% pay raises our MLAs voted for themselves in mid-2007.  That said, there needs to be a process for politician pay.
In today's Tri-City News, the front page story discusses the new process by which Port Coquitlam is looking at the raises.
Before I get into that, here is a brief, incomplete history of the process in PoCo thus far.  Every three years – usually at the first or second Council meeting after the new Council is elected – wages are discussed.  Reports were put together by staff, discussed by the Council, then the raises were passed at a Council meeting.  Sometimes a Council member would vote against it (as Councillor Mike Forrest did in 2003) but usually (always?) the raises went through.
So, the article reveals that this time around the raises were delayed while "…the city dealt with issues relating to former mayor Scott Young's conviction on a number of criminal charges".
That said, this time around remuneration is being reviewed by a committee of six volunteers including a bank manager, a human resources manager, a business person, a former elected official and retirees.  In short, a panel review of salaries – similar to the provincial process – is taking place.
This, is a good thing.

Having a committee review all aspects of the City Council remuneration package allows fresh, unbiased eyes to look at this from a unique perspective.  I like this.  Hopefully salaries, benefit packages, etc. from other cities will be reviewed.  That said, I do not wish to see a system (like in Coquitlam) where the Council salary is tied to the raises CUPE receives.  Why would I want my elected body's salaries tied to the increases made by a non-elected body?  This is a cop out by elected officials who may wish to deflect responsibility for their increases.
The dumb part of this PoCo process?  Delaying the review to deal with Scott Young's issues.  Ridiculous.  Why further City business was delayed because of Scott is beyond me.  The process could have been started months ago (Scott's recent legal issues started in March 2007), completed before the November 2008 election and implemented in January 2009.  It would have been interesting to see how the Mayoral and Council candidates would have handled this "issue" during the election.
The name of the members of the PoCo review committee have not yet been released.  Quite frankly, I do not have a problem with this as long as the names are released as part of the final report.  Having the names known could lead to intense pressure from the community and special interest groups.  With this happening, the committee loses its objectivity which is the foundation of the process.
To illustrate the pressure that is often put on a Committee let me share a story.
As the organizer of the Terry Fox Hometown Run I know the joy of taking part in this community event.  In 2005 – the 25th Anniversary of the Marathon of Hope – some of the joy was sucked out of the event by groups of nagging opportunists.
The 25th Anniversary was HUGE.  We had 13,000 people show up.  Premier Gordon Campbell and then Prime Minister Paul Martin came to PoCo for the first time in years.  Once those names were released, my phone did not stop ringing.
Every political party wanted a spot on the stage.  Churches and religious groups wanted in. Protesters wanted a spot.  Other cancer agencies demanded exposure.  Because I was / am so easy to get hold of, I had the job of saying NO to most of these groups.
The political groups accused me of being sympathetic to other political organizations.  One Church told me I was "going to Hell" for not allowing them to take part.  Protesters said I was a puppet of the government.  A cancer agency said I was selfish for not letting them get in on what should really be Terry's day.
To tie this back to the review committee, if the names are made public now, they may have undue pressures put upon them which could spoil the process.
My view is our PoCo Council are underpaid.
Here is a chart showing what our PoCo politicans earn vs other municipalities (NOTE 1/3 of the salary is tax free for the purpose so our politicians can cover certain expenses tied to performing their duties):
[table "0" not found /]
There are no set "rules" as to how many hours our municipal elected officials should work.  In my view, the Mayor's position is full time while the Councillors are part time. For the most part, our local politicians are hardworking underpaid "civil servants" who are trying to do their best in full view of the public.
So, what should these folks receive as a salary?
Knowing the general effort and time commitment our Council puts in to the the job of managing our city; the stress to our city's current financial health; and what other Councils receive, I would have no problem with a Councillor increase to $26,000 (a 16.8% raise) and the Mayor's salary at $73,000 (an 8.5% raise).  Over three years, this would be roughly a total increase of $84,564 – the equivalent of one month's fines which could be collected from Kia for bylaw infractions.
The question I have for the salaries is will the raises be retroactive?  If so, to when?
Had Mayor and Council explained this process earlier – this past summer would have been good – then much of the mystery would be gone.  As it stands, this is the best review process I have seen in PoCo and look forward to seeing the final report and learn the names of the committee members shortly thereafter.