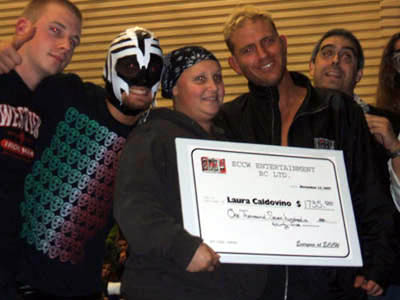 Professional Wrestling often gets a bad rap and some folks are surprised that I actually own a pro-wrestling company (ECCW). But like most forms of entertainment the fans and performers are great people and when called upon, are willing to help out people in need.
Last night in Maple Ridge, ECCW was able to step up and help Laura Caldovino in her battle with cancer as we put on a "Wrestling With Cancer" show at her old high school in front of 275 fans. We were able to raise roughly $2,000 in cash and donations (e.g., gas cards). In the photo above are wrestlers Mikey DaSheezits, El Phantasmo, Disco Fury and much of my head (as I continue to talk into the microphone) along with Laura. The wrestlers in the photo all went to the high school – Westview Secondary School – and knew Laura and/or her family.
The show was a lot of fun and we were glad we could help make a small difference for Laura. Click here to read a news piece on the event.