Warning
: strtotime() [
function.strtotime
]: It is not safe to rely on the system's timezone settings. You are *required* to use the date.timezone setting or the date_default_timezone_set() function. In case you used any of those methods and you are still getting this warning, you most likely misspelled the timezone identifier. We selected 'America/Los_Angeles' for 'PST/-8.0/no DST' instead in
/home/daveca50/public_html/wp/wp-includes/functions.php
on line
35
Warning
: date() [
function.date
]: It is not safe to rely on the system's timezone settings. You are *required* to use the date.timezone setting or the date_default_timezone_set() function. In case you used any of those methods and you are still getting this warning, you most likely misspelled the timezone identifier. We selected 'America/Los_Angeles' for 'PST/-8.0/no DST' instead in
/home/daveca50/public_html/wp/wp-includes/functions.php
on line
107
Warning
: date() [
function.date
]: It is not safe to rely on the system's timezone settings. You are *required* to use the date.timezone setting or the date_default_timezone_set() function. In case you used any of those methods and you are still getting this warning, you most likely misspelled the timezone identifier. We selected 'America/Los_Angeles' for 'PST/-8.0/no DST' instead in
/home/daveca50/public_html/wp/wp-includes/functions.php
on line
109
Warning
: date() [
function.date
]: It is not safe to rely on the system's timezone settings. You are *required* to use the date.timezone setting or the date_default_timezone_set() function. In case you used any of those methods and you are still getting this warning, you most likely misspelled the timezone identifier. We selected 'America/Los_Angeles' for 'PST/-8.0/no DST' instead in
/home/daveca50/public_html/wp/wp-includes/functions.php
on line
111
Warning
: date() [
function.date
]: It is not safe to rely on the system's timezone settings. You are *required* to use the date.timezone setting or the date_default_timezone_set() function. In case you used any of those methods and you are still getting this warning, you most likely misspelled the timezone identifier. We selected 'America/Los_Angeles' for 'PST/-8.0/no DST' instead in
/home/daveca50/public_html/wp/wp-includes/functions.php
on line
112
June 18, 2009
16 comments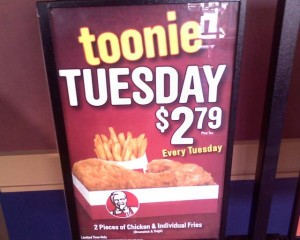 QUESTION: How much will you pay for the "Toonie Tuesday" special at KFC?
ANSWER: More than a toonie…almost 40% more for a total of $2.79.
Imagine if this extended over into, say, the automobile industry:  "A dollar will get you this car!  Just be sure to bring 25,000 more with you."
These are the things which keep me awake at night.  And revenge fantasies.