Warning
: strtotime() [
function.strtotime
]: It is not safe to rely on the system's timezone settings. You are *required* to use the date.timezone setting or the date_default_timezone_set() function. In case you used any of those methods and you are still getting this warning, you most likely misspelled the timezone identifier. We selected 'America/Los_Angeles' for 'PST/-8.0/no DST' instead in
/home/daveca50/public_html/wp/wp-includes/functions.php
on line
35
Warning
: date() [
function.date
]: It is not safe to rely on the system's timezone settings. You are *required* to use the date.timezone setting or the date_default_timezone_set() function. In case you used any of those methods and you are still getting this warning, you most likely misspelled the timezone identifier. We selected 'America/Los_Angeles' for 'PST/-8.0/no DST' instead in
/home/daveca50/public_html/wp/wp-includes/functions.php
on line
107
Warning
: date() [
function.date
]: It is not safe to rely on the system's timezone settings. You are *required* to use the date.timezone setting or the date_default_timezone_set() function. In case you used any of those methods and you are still getting this warning, you most likely misspelled the timezone identifier. We selected 'America/Los_Angeles' for 'PST/-8.0/no DST' instead in
/home/daveca50/public_html/wp/wp-includes/functions.php
on line
109
Warning
: date() [
function.date
]: It is not safe to rely on the system's timezone settings. You are *required* to use the date.timezone setting or the date_default_timezone_set() function. In case you used any of those methods and you are still getting this warning, you most likely misspelled the timezone identifier. We selected 'America/Los_Angeles' for 'PST/-8.0/no DST' instead in
/home/daveca50/public_html/wp/wp-includes/functions.php
on line
111
Warning
: date() [
function.date
]: It is not safe to rely on the system's timezone settings. You are *required* to use the date.timezone setting or the date_default_timezone_set() function. In case you used any of those methods and you are still getting this warning, you most likely misspelled the timezone identifier. We selected 'America/Los_Angeles' for 'PST/-8.0/no DST' instead in
/home/daveca50/public_html/wp/wp-includes/functions.php
on line
112
November 23, 2008
No comments yet
Warning
: strtotime() [
function.strtotime
]: It is not safe to rely on the system's timezone settings. You are *required* to use the date.timezone setting or the date_default_timezone_set() function. In case you used any of those methods and you are still getting this warning, you most likely misspelled the timezone identifier. We selected 'America/Los_Angeles' for 'PST/-8.0/no DST' instead in
/home/daveca50/public_html/wp/wp-includes/link-template.php
on line
113
Warning
: date() [
function.date
]: It is not safe to rely on the system's timezone settings. You are *required* to use the date.timezone setting or the date_default_timezone_set() function. In case you used any of those methods and you are still getting this warning, you most likely misspelled the timezone identifier. We selected 'America/Los_Angeles' for 'PST/-8.0/no DST' instead in
/home/daveca50/public_html/wp/wp-includes/link-template.php
on line
138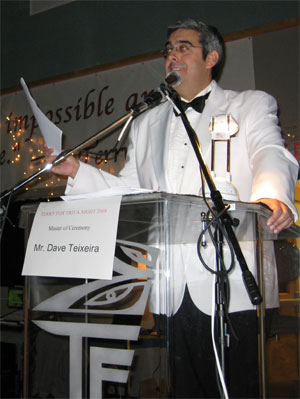 Last night I MC'd the 15th Annual Terry Fox Secondary School Trivia night. The nearly 400 players raised roughly $9,000 to the support the school's music programs.
Eight rounds of ten questions covering topics such as music, quotations, Canada and food carried the night while the students served snacks between the rounds. The 40 something teams had to come up with team names (nice try table 22 – Hugh Jasses) with the judges selecting "Smarter Than Sarah Palin" as the best name.
It is awesome how the community, students and school come together to help out the music program. The students, teachers and parents organize the event; community leaders volunteer as judges; local businesses donate items for fundraising; and a articulate, funny, handsome and modest community guy acts as MC.
I hope everyone had as much fun answering the questions as I had helping out the school. If you are interested in taking part next year, keep an eye out for ads, etc. for the trivia night which is usually the third or fourth Saturday in November.
As mentioned at the end of the evening, below is a complete spreadsheet of the winning teams and scores.

Continue Reading