Posted on
Warning
: strtotime() [
function.strtotime
]: It is not safe to rely on the system's timezone settings. You are *required* to use the date.timezone setting or the date_default_timezone_set() function. In case you used any of those methods and you are still getting this warning, you most likely misspelled the timezone identifier. We selected 'America/Los_Angeles' for 'PST/-8.0/no DST' instead in
/home/daveca50/public_html/wp/wp-includes/functions.php
on line
35
Warning
: date() [
function.date
]: It is not safe to rely on the system's timezone settings. You are *required* to use the date.timezone setting or the date_default_timezone_set() function. In case you used any of those methods and you are still getting this warning, you most likely misspelled the timezone identifier. We selected 'America/Los_Angeles' for 'PST/-8.0/no DST' instead in
/home/daveca50/public_html/wp/wp-includes/functions.php
on line
107
Warning
: date() [
function.date
]: It is not safe to rely on the system's timezone settings. You are *required* to use the date.timezone setting or the date_default_timezone_set() function. In case you used any of those methods and you are still getting this warning, you most likely misspelled the timezone identifier. We selected 'America/Los_Angeles' for 'PST/-8.0/no DST' instead in
/home/daveca50/public_html/wp/wp-includes/functions.php
on line
109
Warning
: date() [
function.date
]: It is not safe to rely on the system's timezone settings. You are *required* to use the date.timezone setting or the date_default_timezone_set() function. In case you used any of those methods and you are still getting this warning, you most likely misspelled the timezone identifier. We selected 'America/Los_Angeles' for 'PST/-8.0/no DST' instead in
/home/daveca50/public_html/wp/wp-includes/functions.php
on line
111
Warning
: date() [
function.date
]: It is not safe to rely on the system's timezone settings. You are *required* to use the date.timezone setting or the date_default_timezone_set() function. In case you used any of those methods and you are still getting this warning, you most likely misspelled the timezone identifier. We selected 'America/Los_Angeles' for 'PST/-8.0/no DST' instead in
/home/daveca50/public_html/wp/wp-includes/functions.php
on line
112
February 1, 2009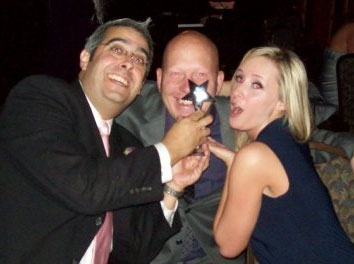 Last Night the Tri-Cities Chamber of Commerce held their annual Business Excellence Awards Gala up at Westwood Plateau Golf & Country Club.  After being nominated with 20 or so other small businesses, my company – Dave.ca Communications Inc. – won the 2009 Outstanding Small Business of the Year!
According to the write up at Dave.ca, my company provides "both on-line and off line campaigns to bring attention to client's events, products and causes".  In short, we work quickly to get you positive attention.
This award is an incredible honour.  This past year has seen tremendous growth for my company and I receive calls on a daily basis to take on new and exciting projects (I will post later this week about some of the upcoming events).  As I said last night, if it were not for the support or guidance of a number of people, this award – and even my company – would not be possible.

First off, my girlfriend Katy.  She has been incredibly supportive regardless of my pleas of "one last phone call" – which it never is; "I am just quickly checking my email" – which is never the case; and "let's go listen to a politician speak for hours on end about things which are somewhat correct but mostly self serving" – which is, well actually, this is accurate.  Thanks sweetheart.
My friend and Port Coquitlam Mayor Greg Moore (pictured above with Katy.  Could I have used a better photo?  Yes.  A funnier photo? Not that I could find.  Trivia note – this photo was taken by Coquitlam Mayor Richard Stewart) takes the time to listen to my good and bad ideas, plans, assessments and is not afraid to show me the folly of my ways.  That is a true friend.  Minus his chicken wing thievery, he is a great guy.  Hopefully he will take my advice from last night and lower business taxes and barriers to small business success in PoCo.  And buy his own chicken wings.  Yes, I am not letting go of that.
Christy Clark – another long time friend, former Deputy Premier of the Province of BC and Port Moody MLA.  We met years ago through the world of professional wrestling (a story for another day) and continue to support each other with our various projects.  She unselfishly uses her media, business and political connections to help me personally and Dave.ca Communications Inc. as a whole.  CC does not get her due for the incredible work she has done for the Tri-Cities (e.g, she is the driving force behind the Pink Shirt Anti-Bullying Day) but I hope she knows just how much I appreciate her support.  She also hosts awesome parties and knows the best place for spicy tuna sushi – she will be my friend for quite some time.
If you can find a bank who will finance your good ideas – keep them.  If you can find a bank who will finance everything you do and give you popcorn – then never let them go.  G&F Financial in Port Coquitlam is just that bank (yes, I know it is a Credit Union but bank just is easier to say).  Branch Manager, Peter Kobayashi is a big reason for my moving ALL my business to his bank (credit union) and telling friends and family to do the same.  I first met Peter about four years ago when he and his branch went above and beyond the expectations in their support of the 25th Anniversary of the Terry Fox Hometown Run.  Since then, Peter gets his branch involved in many different community events.  On top of that, the customer support is OUTSTANDING…AND they serve popcorn in the branch on Fridays!!!  Peter, thank-you for making the financial management part of my business and life easy and stress free.  Also, thank-you for your support of my projects and to the community at large.
All the wrestlers, staff and volunteers at ECCW Pro-Wrestling – THANK-YOU!  These are some of the hardest working, passion driven people you will find anywhere.  I am thrilled they have stuck with me and ECCW over the years and because of them, 2009 will be our best year ever.  A special thanks to Scotty Mac who has grown from "just a wrestler" to a leader in the company with ever improving business accumin.  Thank-you so much!
Finally, I want to thank the person who has made the biggest impact on me in my business life – the current President of STAPLES, Steve Matyas.  I worked for STAPLES for about six years at the start of the company's life in Canada (when they were known as Business Depot).  I showed up for the interview with LONG hair, no socks and little knowledge of what lay ahead.  Steve had the great wisdom to hire me.  I should have known that wisdom would extend to all areas of business.  Steve's logical thought, compassion for staff, tough minded management, desire to read / learn more and a passion for Dr. Pepper are all things I have tired to incorporate into my life.  I have not been very good at keeping in touch with Steve over the years but I can honestly say that his teachings have been with me in just about all my interactions.  Steve, thank-you for taking the chance on a odd 22-year-old kid many years ago and for your patience which allowed me to learn SO much from you and pass those lessons onto others.  I promise to keep in touch!
I know 2009 will be an incredible year for Dave.ca Communications Inc. and I look forward to all the challenges and opportunities which lay ahead.
To wrap up – here are the complete list of winners from last night's Business Excellence Awards:
Innovative Spirit – PoCoMo Youth Servicies Society
Newsmaker of the Year – Hope for Freedom Society
Legacy Leadership – SHARE Family and Community Services Society
Business Person of the Year – Abdul Ladha, CEO, AbleAuctions.com Inc.
Small Business of the Year – Dave.ca Communications Inc.
Outstanding Business of the Year – Tri-City News
Chamber Member of the Year – Brian McCristall