Posted on
Warning
: strtotime() [
function.strtotime
]: It is not safe to rely on the system's timezone settings. You are *required* to use the date.timezone setting or the date_default_timezone_set() function. In case you used any of those methods and you are still getting this warning, you most likely misspelled the timezone identifier. We selected 'America/Los_Angeles' for 'PST/-8.0/no DST' instead in
/home/daveca50/public_html/wp/wp-includes/functions.php
on line
35
Warning
: date() [
function.date
]: It is not safe to rely on the system's timezone settings. You are *required* to use the date.timezone setting or the date_default_timezone_set() function. In case you used any of those methods and you are still getting this warning, you most likely misspelled the timezone identifier. We selected 'America/Los_Angeles' for 'PST/-8.0/no DST' instead in
/home/daveca50/public_html/wp/wp-includes/functions.php
on line
107
Warning
: date() [
function.date
]: It is not safe to rely on the system's timezone settings. You are *required* to use the date.timezone setting or the date_default_timezone_set() function. In case you used any of those methods and you are still getting this warning, you most likely misspelled the timezone identifier. We selected 'America/Los_Angeles' for 'PST/-8.0/no DST' instead in
/home/daveca50/public_html/wp/wp-includes/functions.php
on line
109
Warning
: date() [
function.date
]: It is not safe to rely on the system's timezone settings. You are *required* to use the date.timezone setting or the date_default_timezone_set() function. In case you used any of those methods and you are still getting this warning, you most likely misspelled the timezone identifier. We selected 'America/Los_Angeles' for 'PST/-8.0/no DST' instead in
/home/daveca50/public_html/wp/wp-includes/functions.php
on line
111
Warning
: date() [
function.date
]: It is not safe to rely on the system's timezone settings. You are *required* to use the date.timezone setting or the date_default_timezone_set() function. In case you used any of those methods and you are still getting this warning, you most likely misspelled the timezone identifier. We selected 'America/Los_Angeles' for 'PST/-8.0/no DST' instead in
/home/daveca50/public_html/wp/wp-includes/functions.php
on line
112
December 19, 2008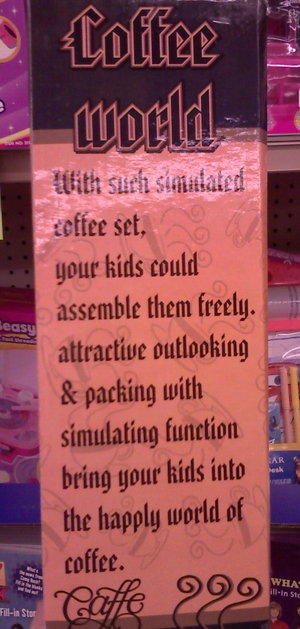 While standing in line the other day at the post office at the northside Pharmasave, I saw the package description at the left for a toy tea set.  Needless to say, I was a bit confused.
First off, the teapot and teacup set was listed as "Coffee World".
Now let's read the rest of the awesome description on the side panel.  "With such simulated coffee set, your kids could assemble them freely."  Ummm….ok.
The next line did not even merit capitalization:  "attractive outlooking".  What is "outlooking" and how would one know if it is "attractive"?
"…and packing with simulating function" – ok, a little awkward, but I get it.  This is not a real tea / coffee set.
It continues: "…bring your kids into the happly world of coffee."  Ok, what is "happly"?  Assuming it is "happy", why would a parent introduce their kids into the "happy world of coffee"?  On a toy gun would it suggest parents, "start your child off right with an intro into the world of gangsters"?
If you buy this for your kid this Christmas, please include a dictionary.  If not, your child may find unhapply outlooking.  Or something.