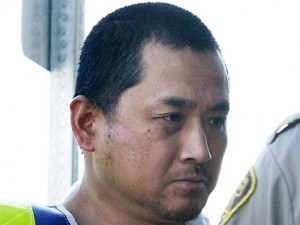 I was greatly disappointed to learn yesterday that Vince Li, who just four years ago in Manitoba horribly murdered, beheaded and cannibalized Tim McLean on a Greyhound bus, was granted escorted leave from hospital.
Mr. Li never served a day in jail for his crime as he was found "not criminally responsible" (NCR). Now, he is a step closer to being permanently released from hospital without a criminal record and without ever having to check in with a parole officer nor medical professionals to ensure he is taking his medication. The Review Board says if he does not take his medication, this would cause "a deterioration" in Mr. Li's mental state where he could re-offend but they are powerless to ensure he complies with their suggestion.
The Crown Counsel in Manitoba did not oppose the release request and the Review Board approved Mr. Li being able to walk about, shop and interact with the public – all things Tim McLean loved doing, but will never do again because of Mr. Li. As such the Crown and Review Board in Manitoba have failed to provide an adequate deterrent for such crimes nor protect the public from repeated "relapses" or offenses.
Here in British Columbia, Allan Schoenborn killed my three children. Twice before that awful day in April 2008 he was institutionalized and taking medication to curb his violent behaviour, but decided he did not want to "take his meds". He then murdered my children, ran and hid in the woods for days, was caught, plead "not criminally responsible" and instead of going to jail, he went to a hospital.
Since Allan was found NCR, he can apply each year for release. In April 2011 he wanted out and the BC Review Board almost granted his request without my even being notified. Thankfully public outcry stopped his release.
This past March, Allan asked for an eight month delay in his Review Board hearing. This means in November 2012 the BC Review Board will consider a similar release as Mr. Li's or possibly a full release as Allan would like. My family, friends and supporters will be fighting to ensure Allan does not get out where he will surely cause more pain and suffering for innocent people.
I have met with Premier Christy Clark; Shirley Bond, the Minister of Justice and Attorney General of British Columbia; and Lyle Hillaby with the Crown Counsel. I have their word that they will oppose ANY release of Allan from custody. They will also be working to have the "not criminally responsible" laws modified and rules surrounding annual review hearings for NCR patients changed.
My family and I look forward to meeting with Rob Nicholson, Minister of Justice and Attorney General of Canada this Summer to gain the same assurances I received from his Provincial counterparts: to change the laws so public safety for all Canadians comes before the freedom of violent offenders.
Darcie Clarke
www.4Darcie.ca
- 30 -
For further inquiries please contact:
Dave Teixeira
Dave.ca Communications Inc.
dave@dave.ca