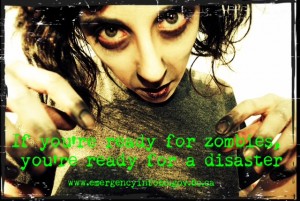 As you have read elsewhere on Dave.ca, I am not a huge fan of Government videos.
When being kind, I suggest Government attempts at filmography "lack pizazz" and when I'm hitting the honesty button a little harder I write that folks in Government who take stabs at videos are "soulless hacks with no humour, less common sense and have a modicum of talent".
But this week something changed.
The British Columbia Government's Emergency Info BC website has a blog which uses the premise of a zombie attack to educate citizens on being prepared for an emergency.
Now, I am not a big fan of the zombie genre, but I am a huge fan of creativity and this campaign has far more than any other Government attempt.
UPDATE: Listen to the first part of this radio interview I did on CFAX in Victoria:
Audio clip: Adobe Flash Player (version 9 or above) is required to play this audio clip. Download the latest version here. You also need to have JavaScript enabled in your browser.
Is it successful? Well, from an awareness point of view LOTS of media are picking up this unique campaign – Globe & Mail, National Post, CTV, News 1130, Huffington Post, Calgary Herald, etc.
By looking at the Youtube videos views for Emergency Info BC, we can see that in the three months the account has been active they have uploaded 39 videos which have received 4,788 views. Six of those videos are part of the "zombie campaign", uploaded on May 14th and combined have 1,130 views, or 23.6% of the total channel views. Pretty good compared to past channel performance but not exactly in viral video territory.
UPDATE:
May 16th – the six videos now have 9,382 views and all 39 videos on the channel have 11,665, so the zombie videos have 80.4% of the total views

May 17th – the six videos now have 16,192 views and all 39 videos on the channel have 20,202, so the zombie videos have 80.2% of the total views

May 18th – the six videos now have 19,503 views and all 39 videos on the channel have 23,630, so the zombie videos have 82.5% of the total views
I guess over time we will see if folks take up the Government on their tips to be better preparded for an emergency.
I know Government people love taking advice from me on how they can improve and/or make things better for me. With that in mind, I offer these suggestions:
1) Fade out the music on the videos. The music on the five "silent film" videos ends abruptly mid note leaving one wondering what is happening. Sort of like BC Conservative Leader John Cummins looking at a computer.
2) No social media. No mention in the Youtube descriptions, in the blog, at the end of videos, etc. What's up with dat? Having a Twitter account from a zombie telling the story of how he is finding folks prepared / not prepared would be humourous and engaging. Sort of like the Twitter account by Ted, the teddy bear from the movie, well, Ted or that "Vice President" from Playstation, Kevin Butler's Twitter account.
3) There was no real call to action other than "come on, be prepared". Having a contest where folks submit their own photos / videos outwitting zombies or of their own homemade emergency preparedness kits would have brought this campaign home. Plus, target service groups, youth clubs, high schools, and 30-year-old virgins living in their parent's basements – you know, folks who think zombies are cool.
4) Spend $11 and get an awesome domain name for a year. As it stands, the domain for the blog is http://www.emergencyinfobc.gov.bc.ca/zombie-preparedness-week-are-you-ready.html – not exactly a solid piece of branding. How about ZombiesAttack.ca or AreYouReadyFortheZombies.ca or TheZombiesAreComing.ca or BCZombies.ca (which, BTW would be a good name for either a band or a political party – your pick)? All those domains (and plenty more) are available as of this writing. Register and then point to your long named blog. Easy and for $11-ish, a cost effective way of "URL branding" the campaign. I made this for you – http://dave.ca/zombies/ – you're welcome!
5) Finally – amplify! Where are the MLAs from all parties talking about this campaign? With the six videos only receiving 1,130 views there is a serious promotion / hype problem. Using the resources internally (your MLAs and their social media networks) to share the videos and amplify the message will help.
So watch the six videos below and let me know what you think.