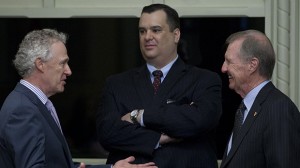 Do you love Mixed Martial Arts (MMA)? Fascinated by politics? Do you like Canadian Senators discussing MMA and one of those fine folks shares his name with an MMA fighter?! Well then, this post is for you!
The videos below combine the excitement of people sitting around a table with the action of folks who like talking about MMA.
This is surely gonna be a slobberknocker!
Ok, maybe not…but during the course of five hours over the last two days, the Canadian Senate's Legal and Constitutional Affairs Committee considered Bill S-209, An Act to amend the Criminal Code (prize fights).
This Act will clear up "concerns" that the Criminal Code of Canada under Section 83.2 prohibits MMA. This was never the case, in fact Canadian Heritage Minister, James Moore, appeared before the City of Vancouver in December 2009 to confirm this fact. But still, there were some folks (*cough* unelected political hacks posing as helpful bureaucrats at the City of Vancouver *cough*) who thought it was, so the Federal Government has now decided to make it crystal clear.
Coupled with the news from Monday that in British Columiba, Premier Christy Clark and Minister of Community, Sport and Cultural Development, Ida Chong will be forming an Athletic Commission, this has been an eventful week in Canada for combat sports.
My take is this Act will pass through the majority led Conservative Senate and House without any problems.
I will have more to say later about the videos below (including some excellent and insightful comments from UFC's Tom Wright), but until then, check out these action packed Senate hearings!
In the first video from May 9, 2012:
The Honourable Bal Gosal, Minister of State (Sport)
Nada Semaan, Associate Deputy Minister (Canadian Heritage)
Dan Smith, Director Policy and Planning, Sports Canada (Canadian Heritage)
Dr. Teresa DeFreitas, Sports medicine consultant (As an individual)
Ken Hayashi (As an individual)
Patrick Reid, Executive Director (Edmonton Combative Sports Commission)
Runtime

120:22

View count

10
The second video from May 10, 2012 (or as I say, the main event) features:
Tom Wright, Director of Canadian Operations (Ultimate Fighting Championship)
Rory MacDonald, UFC Welterweight Fighter (Ultimate Fighting Championship)
Dr. Samuel Gutman, President and Chief Medical Officer (Rockdoc Consulting Inc.)
Ryan Leef, M.P., Yukon
Runtime

161:43

View count

6