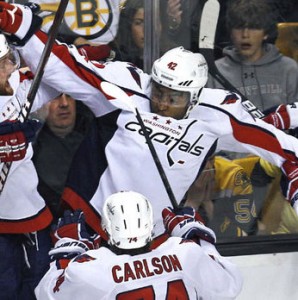 So, last night the 2011 Stanley Cup Champion Boston Bruins lose in game 7 of the opening round of this year's playoffs and some of their fans go off. No, not like in Vancouver last year with the riots after game 7 in the Stanley Cup finals, but still Bruins' fans went off.
You see, the winning overtime goal was scored by Washtington Capitals player Joel Ward.
Check out the goal in the video below along with the AWESOME play-by-play call:

Runtime

0:49

View count

55,061
Of the near 1,000 players on 30 NHL teams, Ward is one of roughly twenty black players. This annoyed a number of Bruins' fans who then took to social media (mostly Twitter) to decry "that nigger" scoring the winning goal.
Yep, racist fans put their comments in a public forum, attaching their names, images and contact information to thoughtless, ignorant, racist comments. When will people learn that comments and actions posted online are there FOREVER to be viewed and shared by all? Even if up on the 'Net for a second, one's stupidity can be immortalized for all time.
Curious how schools, organizations, employers and/or future employers of these racists will react to seeing such posts online.
As of this writing, the Bruins have not made any comment on this negative turn of events. They should. The Team, or at least members of the Team, have no problem wading into political firestorms. Remember last year when Boston goalie Tim Thomas boycotted visiting the White House with his Team after winning the Stanley Cup because he was protesting "excessive government"? Would be nice to see Thomas speak out against the fans' excessive stupid and racist comments.
UPDATE: At 1:29pm Boston time, the Bruins issued the following:
The Bruins are very disappointed by the racist comments that were made following the game last night. These classless, ignorant views are in no way a reflection of anyone associated with the Bruins organization.
Below are a collection of the racist Tweets which are certainly not safe for work (NSFW).