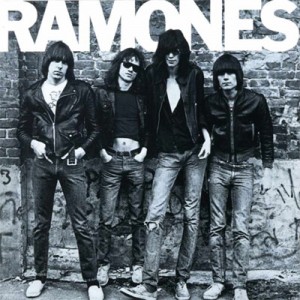 April 23, 1976 one of my favourite bands, The Ramones, released their debut album Ramones. Fourteen songs of three chord awesomeness that changed the world!
Pretty much all of my bass playing style came directly from The Ramones. Fast 4/4 time rhythms, low tone three to four notes tops. Simplistic, repetitive, strong bass playing at its best. PLUS I could often drink while playing, using the neck of a beer bottle on the frets then open notes to drink.
The album's lead off song, "Blitzkrieg Bop", still stands as a classic tune from the band and the opening lyrics serve as the band's battle cry, "Hey! Ho! Let's Go!". I dare you to not rock out too this song.
The songs tell tales of failed relationships, heading out to a punk show, thoughts of revenge, hanging out with friends and other standard adolescent (my definition being ages 13 to 50) themes…but played REALLY fast. Perfect song therapy!
Ramones still stands the test of time but cover versions by Rob Zombie, The Beautiful South, Jason Mraz, Screeching Weasel (my favourite of all the covers), Bruce Springsteen, Green Day, Pennywise, Kiss, U2 and many others offer some interesting takes on these classic tunes.
For your listening pleasure, below are the 14 songs (as found on Youtube)in the order as they appeared on the Ramones' debut album. Happy Birthday!