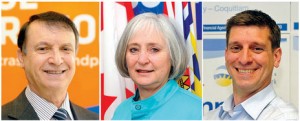 If you missed the Tri-Cities Chamber of Commerce hosted debate with the three Port Moody Byelection Candidates then you were one of many who did. But fear not – a video exists for your viewing pleasure.
Joe Trasolini (NDP), Christine Clarke (BC Conservatives) and Dennis Marsden (Liberal) took part in the all-candidates meeting for on April 11th just as the Vancouver Canucks took to the ice for game one of their playoff series against the LA Kings.
I will save my written commentary (mostly because I am too busy to write it) and say watch below for 1) the response to my question on having an Athletic Commission in BC to regulate Mixed Marital Arts (MMA) SPOILER: Trasolini believes MMA means the participants must KILL each other to win; 2) my question on the candidate's favourite social media platform SPOLIER: Trasloini says it is "Tweeter" and 3) the complete near two hour debate is here for your viewing pleasure.
Voting day is April 19th.
Runtime

112:18

View count

88