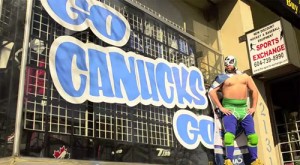 Yeah, the Vancouver Canucks are down 3 to 0 in the best of four against the LA Kings in the opening round of this year's Stanley Cup Playoffs. Last year, they were in the finals…this year, well, I think they are done in the next two games.
Until then be happy and dance to these awesome fan created songs and videos in support of the their team who have won 13 few Stanley Cups than GOD'S TEAM, the Toronto Maple Leafs.
But first, I have to say how talented folks are in creating these videos and having them shown to the masses! A video to the tune of Bruno Mars' "Lazy Song" has over 5 million view; another to Rebecca Black's "Friday" has over half a million views; Canuck Libre, a guy running half naked in a wrestling mask is starting to get noticed and so many more videos are waiting to be discovered.
As I have said before, I love how Youtube and the Internet level the playing field in having your creative product get exposed to the masses. The creativity is amazing and I enjoy finding the next new thing.
Are there other Canuck related videos I should add to the list below? Which one is your favourite?
Golf Canucks Golf! Er, I mean, Go Canucks Go!