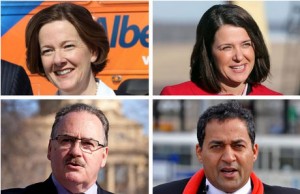 Well, that's what some pundits are saying so you know it must be true.
I love political debates. Really for the first time you see candidates alone at the mic. Their ever present staff who feed them answers and briefings like mints at a Greek restaurant are gone. Some of these politicians have to rely on their individual knowledge, memory recall and wit. So you know there will be problems.
The Alberta election is interesting as it appears that Province will elect a female Premier…and possibly from the "fringe" Wildrose Party.
When one remembers that twenty-five years ago Alberta was home to the Reform Party (fun fact, formed on Halloween 1987…spooky!) which then became the Canadian Alliance Party and then the Conservatives who now rule the country with a majority Government, I think keeping an eye on Alberta is a good thing.
So if you did not watch the debate last night (I have not…yet) then here is the 90 minute event for your viewing pleasure.
Do you see a strong Premier of Alberta in the mix? Even possibly a future Prime Minister?