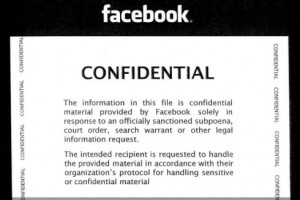 Spoiler alert – EVERYTHING.
It seems Facebook turns over to legal authorities just about anything and everything you have posted on the social networking site and if others interacted with you, the Police will get some of their information / postings as well.
This came to light after the Boston Police Department released a variety of files in conjunction with their investigation of Philip Markoff, the so-called Craigslist Killer. The Boston Phoenix newspaper redacted and then published the subpoena from the Police to Faceback.
The 71 page document below offers extensive insight into just how everlasting your "Facebook digital footprint" may be in this age of social networking.
Subpoena: Philip Markoff's Facebook account
Some interesting points to note:
- Facebook will not tell you if the police have requested information, in fact they are forbidden to do so.
- You know all those posts and photos you deleted?…yeah, not so much. All still avaiable on Facebook servers.
- Are you the friend of a suspect? A whack of your information is included in the logs / reports forwarded to law enforcement.
Forget for moment that the above document was obtained to convict a guy accused of a murder; put out of your mind that the storage of such information may not be legal in Canada and forget about just how up-in-arm some "legal rights advocacy groups" may get after reading the above and focus in on this: Facebook TELLS us in their Terms and Conditions under Section 16:
The following provisions apply to users outside the United States…You consent to having your personal data transferred to and processed in the United States.
So read the above again – by using Facebook you are granting them the right to store and maintain your data, posts, photos, etc. in the good ol' US of A.
Then under Facebook's Full Data Use Policy you have agreed to all sorts of things. I encourage you to spend ten minutes reading the policy but here is an interesting piece that is really helpful to law enforcement:
Other information we receive about you

We also receive other types of information about you:

We receive data about you whenever you interact with Facebook, such as when you look at another person's profile, send someone a message, search for a friend or a Page, click on an ad, or purchase Facebook Credits.

When you post things like photos or videos on Facebook, we may receive additional related data (or metadata), such as the time, date, and place you took the photo or video.

We receive data from the computer, mobile phone or other device you use to access Facebook. This may include your IP address, location, the type of browser you use, or the pages you visit. For example, we may get your GPS location so we can tell you if any of your friends are nearby.

We receive data whenever you visit a game, application, or website that uses Facebook Platform or visit a site with a Facebook feature (such as a social plugin). This may include the date and time you visit the site; the web address, or URL, you're on; technical information about the IP address, browser and the operating system you use; and, if you are logged in to Facebook, your User ID.

Sometimes we get data from our advertising partners, customers and other third parties that helps us (or them) deliver ads, understand online activity, and generally make Facebook better. For example, an advertiser may tell us how you responded to an ad on Facebook or on another site in order to measure the effectiveness of – and improve the quality of – those ads.

We also put together data from the information we already have about you and your friends. For example, we may put together data about you to determine which friends we should show you in your News Feed or suggest you tag in the photos you post. We may put together your current city with GPS and other location information we have about you to, for example, tell you and your friends about people or events nearby, or offer deals to you that you might be interested in. We may also put together data about you to serve you ads that might be more relevant to you.

When we get your GPS location, we put it together with other location information we have about you (like your current city). But we only keep it until it is no longer useful to provide you services.

We only provide data to our advertising partners or customers after we have removed your name or any other personally identifying information from it, or have combined it with other people's data in a way that it is no longer associated with you. Similarly, when we receive data about you from our advertising partners or customers, we keep the data for 180 days. After that, we combine the data with other people's data in a way that it is no longer associated with you.
So what have we learned? The same lesson I share time and time again – anything you put on the web is there forever and can be shared with anyone at anytime.
Also, Facebook totally stooges you out to the cops, Five-O and/or the Po Po (yes, I have been watching The Wire).