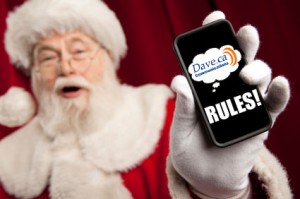 Lots of fun stuff on today's show and I wanted to ensure you had links here to check out all the Christmas Eve social media action.
First off, to listen to the show with my producer Sean Leslie, click play below:
Audio clip: Adobe Flash Player (version 9 or above) is required to play this audio clip. Download the latest version here. You also need to have JavaScript enabled in your browser.
I mention this late in the show but a great site to see where Santa has been / is currently delivery presents / or will be soon is the NORAD Tracks Santa site. Since NORAD has so little do do now that we have world peace, they track Santa and display some good maps and videos (thanks to Google).
More from Google – you can send a personalized phone call from Santa to any phone in the US or Canada. Once you visit www.SendaCallFromSanta.com you fill a short questionnaire about yourself, the person you want to receive the call from Santa, your phone number and the receiver's phone number. In an instant Santa makes the call and hilarity ensues. Here is a copy of the call I so generously sent to my producer Sean Leslie in place of a bonus or praise:
Audio clip: Adobe Flash Player (version 9 or above) is required to play this audio clip. Download the latest version here. You also need to have JavaScript enabled in your browser.
I LOVE this video – Christmas story told through Facebook, Twitter, YouTube, Google, Wikipedia, Amazon…:

Runtime

2:58

View count

247,613
…and this Christmas tree, powered by social media from ChristmasSpirtTree.ca:

Runtime

1:45

View count

55,479
I hope you enjoyed this week's show and have a Merry Christmas and Happy Holidays!