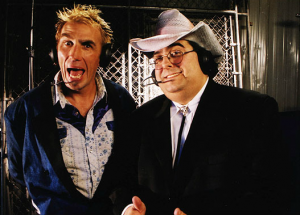 Did I ever mention that I was in a rock video with Joey "Shithead" Keithly from DOA? I was about 100lbs heavier in the summer of 2000 and had a blast doing the video over two days at the ECCW Wrestling School in Langley, BC.
The video for JP5′s "Beer Drinkin' Maneaters" played a bunch of times on MuchMusic and MTV Canada (when they actually played music) but did not live up to the Juno hype. Granted much of the hyping for a Juno came from me…so, you know.
JP5 were very respectful of the wrestlers and learned their moves quite quickly. Joey was great to work with and so was Director Mike Love who I have recently discovered is the cousin of a friend. Small world.
While certainly I was AWESOME in my acting role, I was very, very fond of "Nurse Ratchet".
Let me know what you think and enjoy!
Runtime

4:20

View count

1,183